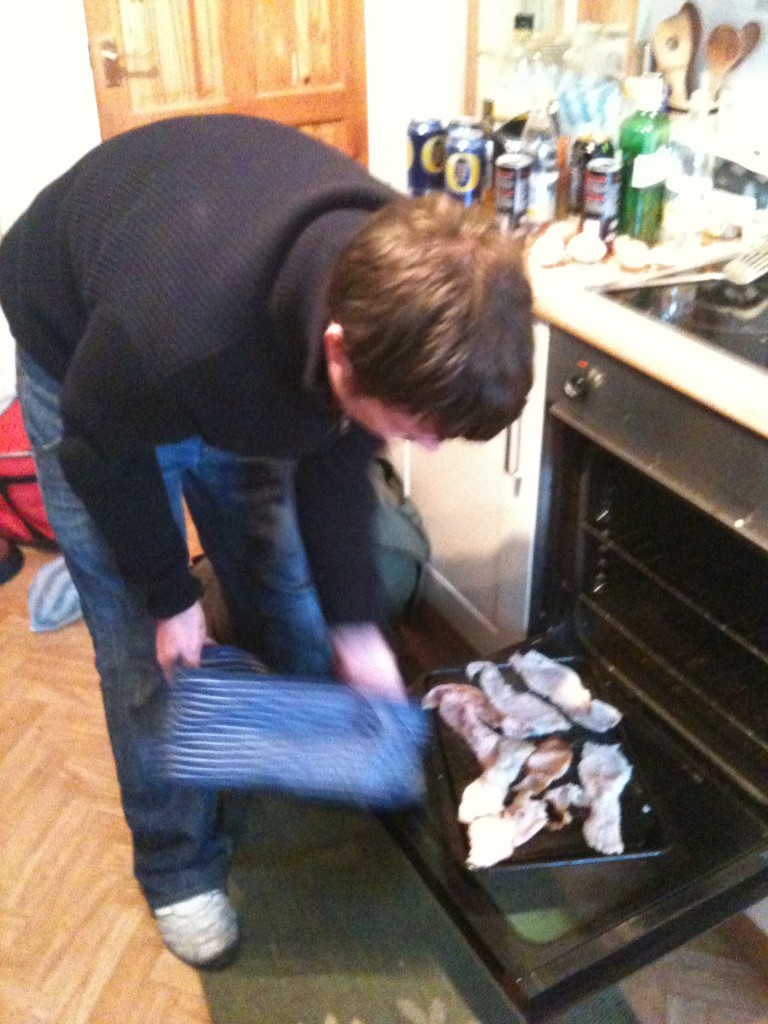 This rather unremarkable snapshot is from 13 March 2011/Boys night in at Mark & Maria's old gaff.
Me & Chris drove up together a while after the other boys as we had dad duties to attend to.  Not seeing each other often due to 1 thing & another (mainly as I have been in London for the last 10 years) we had a really good, quiet, sober 1 to 1 catch up on the journey, and for old times sake listened to Amorica by The Black Crowes for the 1st time in years; both of us blown away about actually how good an album it was.  *Confession* we raided Sarah's room at Murphy towers for this and 1 or 2 other CD's before we set off.   Which reminds me….
After picking Chris up from his wee cottage, we drove to his Mum & Dad's to pick up a box of bits, bobs and memorabilia belonging to the original landlords of The Gypsey Tavern, so Chris could hand it all back to Ste.  We popped out to the Murphy shed – which was a real blast from the past, considering that a few of us practically lived there during our late teens.  Out came the box, and he starts sifting through the items showing me stuff, he pulled out a boddingtons bar towel and a mouse jumped up and scared the bejesus out of him.  I nearly wet myself with laughter as he squealed like a girl and said "f*** this, I'm off, you empty the box!"  and disappeared back into the house.  Charming.  So I slowly took everything out piece by piece, no sign of the mouse though.  Anyway, eventually he came out again "done it yet?", "yeah just about" and then he picked the bottom item out of the box and the mouse jumped right up and out of the box.  Chris jumped twice as high.  Pure comedy.
We got to Mark's, the lads had already had 1 or 2, Ste Whitt feeling a bit amorous was getting the old frisky wobble in his legs and kept repeatedly kissing me on the dome.  AND I saw Andy awake after midnight for probably the first time this century. Quite remarkable.
Anyway, after a night shooting pool in Marky G's garage, must have been 2 or 3 O'Clock, Chris decides he's gonna feed us all with Mark & Maria's bacon.  That's him working the grill in the photo.  Someone offered him the tongs after we saw him sharply letting go of each piece of hot bacon whilst trying to turn them with his hands.  But he declined, and to much mirth proceeded to continue dramatically burning his fingers with bubbling bacon juice, muttering complaints to himself until the butties were done.  And much needed they were too.  Nice one Murf 🙂 Bro